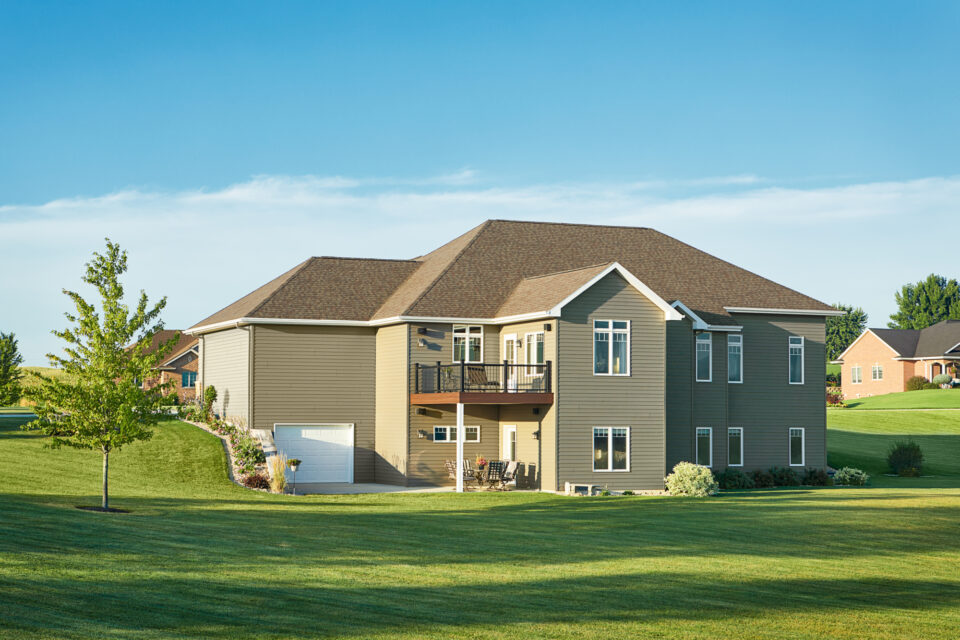 Steel Siding 101: Why You Should Choose Seamless Steel Siding
Your home's exterior needs a facelift and replacing aged or damaged siding can fulfill the curb appeal vision you're looking for. But with the exhaustive list of siding materials on the market, it can be a daunting task to find the right one for your home. If long-lasting siding that's beautiful, modern and low-maintenance is at the top of your list, seamless steel siding is the right choice.
Seamless steel siding allows homes to withstand the harshest weather conditions and retain a beautiful exterior to showcase for years. Other popular siding materials — vinyl, wood, stucco and more — can't come close to the timeless style, tough durability and sustainability of steel siding.
Steel siding for residential homes is increasing in popularity across the country, and it's easy to see why. The extensive benefits of the seamless variety paired with an affordable price point make this siding material extremely appealing to savvy homeowners. To learn more about seamless steel siding and all its features, keep reading below.
Features of Seamless Steel Siding
Seamless steel siding is a special product made from steel panels that are formed on-site utilizing a portable roll forming machine with built-in wood grain embossing rolls. These specialized machines are owned and operated by highly skilled professionals who specialize in seamless steel siding installation. These contractors are dedicated to crafting a home exterior that meets the aesthetic expectations of their clients.
Each section of the seamless steel siding stretches the entire span of the side of your home, no matter how wide it is, ensuring there are no visible seams to act as a weak point. Even if you have a longer home, you can still enjoy a durable, seamless installation.
No longer taking a back seat to engineered wood and fibered cement products, steel siding is an upgrade choice. Today's seamless steel siding is available in countless profiles and textures, an extensive color palette and endless decorative options. The cost of residential steel siding is affordable and cost-efficient compared to other siding materials — thanks to its long life, high durability and low maintenance — allowing you to get the biggest bang for your buck.

The Benefits of Seamless Steel Siding
Seamless steel siding is one of the toughest materials on the market; it's incredibly resistant to moisture, excessive heat and fading. And seamless steel siding offers extra protection against insects, moisture, mold and air as the full wall length panels mean there are fewer wall penetrations creating weak spots in your exterior.
Other common siding materials come with a higher level of upkeep than seamless steel siding. Because there are very few crevices for dirt to build up, seamless steel siding is incredibly easy to clean and maintain — just rinse with water! There's no need to take up your weekends with priming, painting, caulking or staining.
Seamless steel siding is guaranteed to retain its appearance for decades, and it is environmentally friendly. Steel is the most recycled material in the United States, making this a sustainable purchase. And because each panel is made to fit, waste is minimized, which is better for your pocket and the environment as no unused siding is sent to the landfill.
It's important to note that painting over the original steel siding can compromise the original finish — so make sure you select a color that you'll love for years to come! We also recommend letting a professional seamless steel siding installer do the job to make sure your siding goes on correctly the very first time.
Aesthetic Benefits of Seamless Steel Siding
Seamless steel siding offers a wide array of aesthetic benefits. From unique textures and profiles and countless colors to choose from, your siding will have a distinctive, contemporary look that's sleek and uniform in design, while staying free of gaps, seams and unsightly breaks.
Because seamless siding is custom made to fit each and every project — and because it stays looking great for years — you are guaranteed to have great curb appeal no matter how long you stay in the house. Your neighbors will be asking you for the secret to your stylish, low-maintenance exterior!
Home Styles Featuring Seamless Steel Siding
Whether you live in a northern midwest state like Minnesota, North Dakota, South Dakota, Wyoming or Iowa, in the central states like Colorado, Kansas or Nebraska, or in the southwest like New Mexico, Oklahoma or Texas, Klauer has a great seamless steel siding solution for you.
Want a detailed look at one of our projects? Check out a recent and jaw-dropping seamless steel siding install on this home in North Dakota.
Fargo, North Dakota
A Klauer Designed Home in Fargo, ND
Homeowners in Fargo, North Dakota built the above, brand new two-story + garage home with Klauer's Deep Ocean Blue Seamless Steel D4 siding. They paired the beautiful dark blue with white accents on the rest of the exterior, including Klauer's Snow White Steel for accents, classic aluminum Snow White soffit and classic 6" steel fascia.
The color and texture of the seamless steel siding complement the green grass in the gorgeous summers and offer protection from the tough winters of the far north.
Seamless Steel Siding by Klauer
Seamless steel siding from Klauer Manufacturing is available in six different profiles, along with both a shake and a shingle accent panel, and is backed by a no-rust, ‑crack, ‑blister, ‑chip, ‑peel, ‑flake or ‑fade warranty. Klauer has an extensive range of colors to meet your project's needs and exclusive, durable coatings to deliver a consistent color application.
No matter which color or profile you choose for your seamless steel siding, you're going to get a long-lasting siding that can hold up against extreme weather conditions and offer you gorgeous curb appeal. Choosing Klauer means choosing high-quality and high-performance.
Want to learn more about Klauer's seamless steel siding solutions? Check out Klauer's Steel Siding page and find out more about contractors in your area.