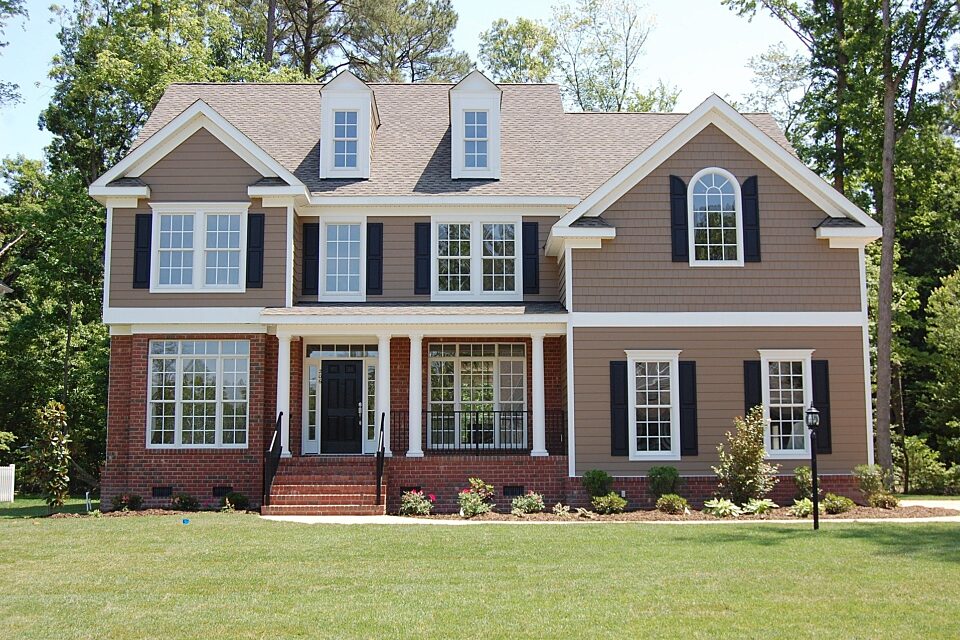 A History of Residential Exterior Siding


Exterior siding materials have come a long way since their inception. The type of siding on homes is generally dictated by the time, groups of people and region in which the house was built — and the origins of profiles are fascinating.
From brick to aluminum to steel siding, read on to find out more of the history of residential siding, how it developed over the years and the best solutions available today.
A Brief History of Exterior Siding
Exterior siding (also called cladding) is the protective material on the outside of homes, keeping people and their belongings safe from the elements for many centuries.
Starting from thatch and wood siding and continuing on to modern options such as steel, residential exterior siding has been completely innovated over the generations, providing homeowners the best protection a home has ever seen.
But while builders in the 18th and 19th centuries did not have the luxury of today's technology and construction tools, they still managed to create strong, sturdy homes with siding made from stone, brick and wood.
First Came The Sun, Then Came Brick
One of the earliest materials used as exterior siding is brick. The earliest known brick structure dates back all the way to 7000 BC in Turkey. It featured coarsely crafted blocks of clay that were accidentally left to dry in the hot sun until they fully hardened.
Ancient Egyptian bricks were made by mixing clay with straw, and Aztec communities had a similar method as well. The evidence of this can be seen today at the ruins of Harappa Buhen and Mohenjo-daro. Paintings on the tomb walls of Thebes portray Egyptian slaves mixing, tempering and carrying clay for the sun-dried bricks.
Bricks remained a tool that was reliant on the weather until around 3000 BC when the ancient Romans began firing clay bricks in their earthen kilns. This greatly increased the bricks' structural integrity, and from there, bricks as a building block boomed.
Bricks were used to build structures in the Baltic region, and then they crossed the Atlantic with Dutch and British immigrants who had brick masons among them. In Virginia, brick structures were built as early as 1611.
During the renaissance period, bricks became much less popular. During the mid 18th century, bricks started to make a comeback, but the material was still made by hand, making it a complex and slow-moving process. Builders needed cheaper, easier and more accessible materials.
The
1800

s Brought Accessible Stone and Wood

While parts of the Roman Coliseum, Stonehenge and the Egyptian Pyramids were made out of stone, modern stone siding first appeared in the late 1800s — but mostly in the interior of buildings.

Then, in the 1940s, technology made stone easier to transport and manufacture, and as a result, the utilization of thin stone veneer began to pop up as a common exterior siding option. Since then, stone veneer has been a popular choice for builders because of its durability.

And while wood has been used for hundreds of years in log cabins and Georgian Style Mansions built by early settlers, once the transportation costs of popular brick siding started to rise, builders turned heavily to wood because trees were almost always readily available near their building location — and so residential wood siding was introduced.

However, once the Industrial Revolution broke out, brick making machinery was created and clay capacity skyrocketed. A brickmaking machine could create over twice as many bricks in a day and now brick structures could be built much quicker and cheaper, surging them back into popularity and reducing the use of wood siding during this time.

But because trends are circular, board and batten wood siding shone in American Bungalow and Gothic Revival Houses in the mid 19th century thanks to a simplified milling process, and rustic wood siding became popular during the Great Depression and the creation of the Works Progress Administration.
The
20

th Century and the Affordability of Aluminum

The first documented case of aluminum as an architectural material was the mounting of the grounding cap on the infamous Washington Monument in 1884. It was a very pricey metal at this point in time, a contrast to today's cheap and affordable aluminum pricing.

Sheet-iron units were officially patented in 1903, and embossed steel siding with brick and stone patterns were marketed in the highly sought-after Sears catalogs in the 1920s. Finally, in 1937 modern aluminum siding was invented, and by the end of World War II, aluminum was a popular residential exterior siding option. Steel siding innovation came much later.
Homeowners Go Crazy for Vinyl in the
1960

s

From the 1940s to the 1970s, aluminum was the most common material for siding. Around the same time as aluminum's rising popularity, wood started to become more expensive to buy and homeowners were growing frustrated with the maintenance, water damage and pest control. Then, in the early 1960s, vinyl came out and quickly replaced both wood and aluminum in siding popularity.

However, the aesthetic of wood was still very popular so manufacturers recreated the look with vinyl material.
The Modern Innovation of Seamless Steel Siding
Alongside aluminum siding, steel siding became commercially available and prominent in residential design in the 1940s. Before that, steel gained prominence in rural North America when farmers started constructing pole barns that utilized galvanized, corrugated or grooved sheet steel siding. The durability shocked rural America and most barns today still incorporate steel as a siding material.
At first, homeowners didn't necessarily like the metallic roof-life appearance, but in the 1980s, manufacturers began experimenting with embossed coatings to the metal and a variety of siding styles and designs became readily available.
The introduction of seamless steel siding completely innovated the residential construction industry.
How These Materials Perform Today
Brick Siding
Today's bricks are made by an extrusion process that entails low-moisture clay being forced into molds to set and cut into smaller sections to form blocks where they are fired at a very high temperature, creating a more uniform size. Bricks were highly popular until a few hundred years ago because transporting bricks over long distances costs too much money in comparison to wood — and the transportation costs can still be high today.
If you choose to move forward with modern brick siding, there are many benefits. Brick homes are resistant to fire and can often lower a homeowner's insurance premium. If they are installed correctly with a trained mason, brick is unaffected by moisture because bricks naturally absorb water and release it without damage.
Clay is one of the most abundant materials on the planet, perfect for a homeowner with sustainability on their mind. Alongside its environmentally friendly nature, bricks are strong and durable. Brick homes will not dent or break as vinyl or aluminum can. Brick is also a naturally insulating material, giving a home more consistent indoor temperatures in winter and in summer.
But, brick has disadvantages as well. It is also incredibly expensive, nearly twice the cost of other siding materials. Laying bricks also requires a lot of skill and precision. It is not a DIY siding and the labor can be intensive, adding to your budget and your building schedule.
While bricks are highly durable, the mortar used to attach them loses durability over time. Brick homes often require repointing by a masonry professional to replace the mortar to ensure the integrity of your home is sound.
Stone Siding
Stone is resistant to rain and doesn't decompose over time when it is exposed to harsh elements. The aesthetic of stone can give a home a sense of permanence, history and longevity. Real stone siding gives homeowners a natural look and ruggedness, but many stone veneer manufacturers now use cement and dense polyurethane as fillers to reduce cost.
Stone is one of the most expensive materials on the market, and you will most likely need to hire a specialty mason to install it for you. Stone veneer is more affordable and most regular contractors can install it, but it then lacks durability and aesthetic.
Homeowners who choose stone also sometimes run into trouble when it comes to building codes. Many building codes around the county specify that stone siding cannot exceed 15 pounds per square foot, so make sure you take note of the thickness of your material options.
Wood Siding
Modern wood siding offers homeowners a plethora of options. Homeowners can choose between limitless colors, finishes, stains, styles and tree species.
Wood is also an environmentally-friendly choice. It does not emit any pollutants during the manufacturing process, it's biodegradable, a renewable resource and many suppliers proudly market that they use recycled or engineered wood.
Wood can last for decades if it is maintained properly. Speaking of maintenance, compared to other materials, the maintenance on wood siding is much higher, costly and tiring. And it has to be restrained and repainted every few years.
If you like wood, you'll have to combat pests since wood attracts termites. If you don't like termites, plan to schedule an annual pest control inspection. Depending on the species and style you choose, wood can be more expensive than other options. If the wood becomes cracked, rotted or falls victim to a noisy woodpecker, it needs to be replaced immediately.
If you fail to replace any damaged wood, moisture intrusion, mold and mildew will cause costly problems as well.
Aluminum Siding
Modern aluminum provides excellent insulating properties, allowing homeowners to save a considerable amount of money on heating and cooling costs over its lifetime. It is also more lightweight than ever and easy to install, saving you on labor and time on top of its affordable initial price point.
Aluminum is a great choice for people living in a coastal community as it doesn't swell, rot, mildew or rust. Aluminum is not affected by extreme cold, whereas vinyl can become brittle during severe cold snaps and can easily crack.
However, aluminum has its cons. It tends to dent and scratch easily, and it's hard to match colors when replacing a damaged panel because the sun easily fades aluminum over time. Exposure to the elements can make aluminum appear chalky and dull.
If you are easily perturbed by annoying sounds, skip aluminum siding. In high winds, aluminum makes a variety of ​"pinging" noises. The hot sun also can produce a variety of frustrating ​"pings" as the metal expands with the heat.
Vinyl Siding
Modern vinyl is adaptable to almost any climate, and it costs a fraction of what other siding materials cost. Vinyl is easy to install and you're able to avoid all the labor that's involved with staining, painting, sealing and annual maintenance required for real wood.
The bad news is that vinyl siding is harmful to the environment, can lower your home's value, and suffers from durability issues.
Vinyl siding is mostly composed of polyvinyl chloride, also known as PVC. The manufacturing process produces an overwhelming amount of greenhouse gases, such as nitrogen oxide and carcinogens like dioxin. A harmful by-product of vinyl siding is sulfur dioxide, which contributes to acid rain and smog in communities.
If your home is historically significant or if you plan to decorate your starter home and not your forever home, vinyl siding can devastate your home's value. Vinyl is not recommended if you plan to sell your home.
Many manufacturers say their vinyl siding lasts for upwards of 30 years, but that's often not the case and vinyl usually starts to deteriorate in 10 to 15 years. If you live in an area with extreme temperature changes, your siding planks can split or break due to contraction and expansion.
Vinyl is easily damaged and prone to denting, scratching and fading from the sun. It's not a material that can be easily patched, the entire plank often needs to be replaced.
Steel Siding
Steel siding comes in boxed (regular panel lengths) or seamless.
Boxed steel siding uses smaller, pre-formed and packaged panels in 12' or 12'6" lengths. Each box contains 100 sq ft of siding, so the length depends on a panel profile's coverage.
Seamless steel uses steel siding that is cut to the exact length of a building, thereby eliminating any seams, resulting in extra protection against moisture penetration and strong winds that could potentially dislodge individual panels. Seamless steel creates a tighter building envelope and helps homeowners lower their energy bills and reduces greenhouse gases.
Both types of steel can withstand impact from flying baseballs, tree branches, hailstones, windblown debris and the bitter cold. It is much more durable than vinyl, wood, brick and aluminum, and it requires very little maintenance.
If you find it particularly dirty, give it a rinse with a garden hose. Unlike other materials, it can also withstand the force of a pressure washer.
Steel siding is fire-resistant, pest-resistant and decay-resistant. It keeps your home comfortable in both the winter and the summer if you add a layer of insulation underneath, and unlike aluminum (another metal), it does not fade in the sun or become chalky.
An experienced installer is highly recommended. While the upfront cost is higher initially, steel pays for itself over time. It can last for more than 50 years if it is taken care of ..with minimal maintenance
You Can't Beat Klauer Steel Siding
Klauer Manufacturing offers you the highest level of protection for your home with a price point that matches your budget. Seamless steel siding from Klauer Manufacturing is available in six different profiles, along with both a shake and a shingle accent panel, and is backed by a no-rust, ‑crack, ‑blister, ‑chip, ‑peel, ‑flake or ‑fade warranty.
Klauer has an extensive range of colors to meet your project's needs and exclusive, durable coatings to deliver a consistent color application.
No matter which color or profile you choose for your home's exterior, you're going to get a long-lasting siding that can hold up against the most extreme weather conditions and offer you gorgeous curb appeal. Choosing Klauer means choosing high-quality and high-performance.

Steel siding is one of the best options on the modern market after thousands of years of building materials innovation. Want to learn more about steel siding? Check out what Klauer has to offer or contact us for more information
Request a Sample
Submit your request today to receive a sample to help guide you to the best steel siding choice for your home or next project.