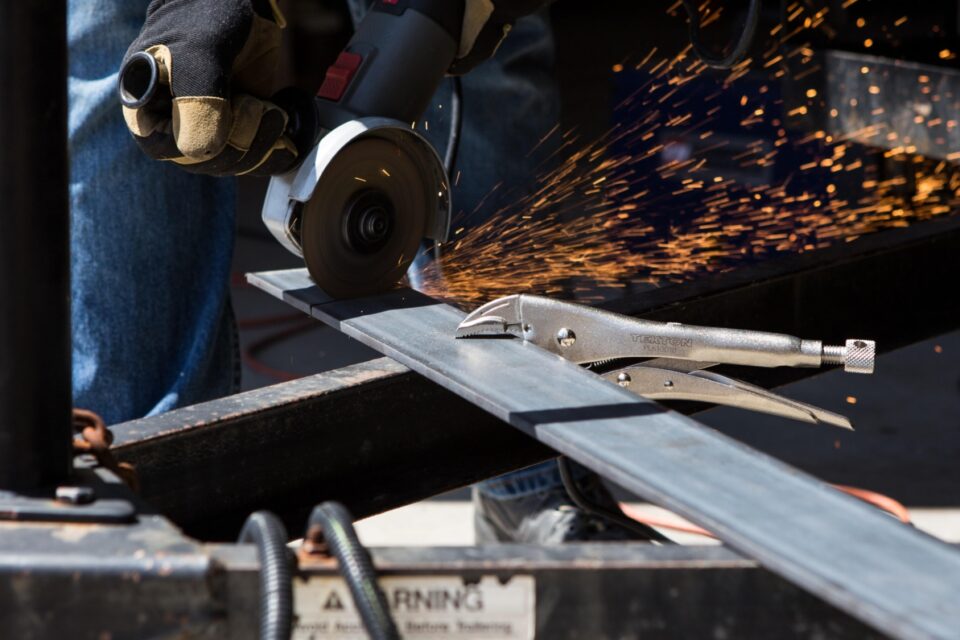 Tips & Tricks: How To Cut Steel Lap Siding
Steel siding is a beautiful, durable metal siding that offers great curb appeal and longevity. However, contractors and installers need to cut sheet metal siding correctly in order for their clients to reap the full benefits of the product. Accurately cut steel siding ensures your client's home is protected from the elements for years to come.
Below you'll find our top tips and tricks necessary to install steel lap siding for peak performance to keep your customers satisfied and singing your praises.
What Is Steel Lap Siding?
Steel lap siding is a type of metal home exterior siding that is installed horizontally. The planks overlap each other when they are placed, which is how it got the name lap siding. Steel lap siding is made of steel, one of the most recycled materials on the planet.
Benefits of Steel Lap Siding
There are immense benefits to choosing steel lap siding. Here are the four key ones.
1

. Unmatched Durability for Peace of Mind

Steel siding is incredibly durable, resisting dents, fire and pests. Thanks to the finish and the way the steel is treated, it also protects against scratches and moisture intrusion. Choosing steel siding means your client won't ever have to worry about corrosion, discoloration or rusting (which means no irritating callbacks for pros).


Steel panels are very stable, so they don't shrink and expand as much as vinyl, wood, or other products made with glues and cement. The life of steel siding spans up to 50 years or more.
2

. Wide Variety of Colors Available to Fit Any Style

Steel siding used to be pretty limited in colors and textures, but that's not the case anymore. An extensive range of colors meets the tastes of residential remodelers, new construction and commercial customers alike.

Steel siding can resemble the look of real wood grain, giving clients a natural-looking wood grain finish without the hassles of real wood, i.e. no warping, fading, rotting, pests or splintering.

It can even be installed in different patterns and configurations, so you can get the look of board-and-batten siding or traditional lap siding, depending on your client's preferences.
3

. Environmentally-Friendly for Green Consumers

Steel is acclaimed as the #1 most recycled material in the United States by the Steel Recycling Institute. When you pair its recyclability and durability with its low maintenance for upkeep, it is a perfect environmentally-friendly siding option.

Steel can be recycled over and over again and never lose its strength or high quality in the process.
4

. Easy Maintenance to Free Up Your Weekends

Not all materials are the same when it comes to maintenance, and steel siding is one of the most low-maintenance exterior materials on the market. If they choose a high-quality material with a protective coating, your clients will only need to gently wash the siding a couple of times a year to keep corrosion at bay and keep the siding shining like new.
Tips
&

Tricks to Cut Steel Siding
Store Correctly
Steel siding has sharp edges. Make sure the product is stored flat with support under the length of the box. Tilt the box 90 degrees on its side during transport. For installation, open the entire box and lift pieces rather than slide them to prevent scratching.
Always keep siding material dry and protected. Make sure that no other materials or bystanders are around so any possible damages or injuries can be prevented. Wear suitable eye protection and protect any exposed skin because potential damage can ensue from flying steel shavings.
Use the Right Equipment
Before you start, bear in mind that steel siding is one of the most durable siding materials on the market and specialized equipment is required for cutting in order to make sure it is properly cut.
How do you determine what the best tools to use are? There are multiple options for tools for cutting steel lap siding: circular saw, twin cutter, electrical scissors, tin snips, etc. You need to pick the tool that feels right for you and your worksite, and often manufacturers will recommend the tools they deem the most suitable for their siding. Make sure to always follow your manufacturer's manual for the best results.
If you foresee yourself cutting steel lap siding often, a special siding cutter machine could be a great investment. The best method is dependent on the specific construction of the building being worked on, the brand and type of siding used and the particular skills of the individual applicator.
Using a special siding cutter machine or a guillotine-type cutting device designed to cut a vertical right angle to siding is the preferred method for making straight cuts without damaging the galvanized coating.
Know the Process
Note the steel lap direction of steel panels being cut. Lay panels to be cut pre-painted side down on a surface that will not scratch the paint. Once you're ready, check the manual of the manufacturer of the steel cutting procedures.
For Klauer Residential Steel Lap Siding, individual panels can be cut with tin snips. Start by drawing a line across the panel using a square. Begin cutting at the top lock first and continue toward the bottom of the panel. Break the panel across the butt edge and snip through the bottom lock.
Use a screwdriver to reopen the lock, which may become flattened by tin snips (see drawing). Aviation shears are sometimes used to cut the top and bottom locks, and a utility knife can score and break the face of the panel. For straight cuts, the best choice is duckbill snips.
Additional Tips and Tricks
There are additional tips and tricks you can implement to make the entire process easier.
Special power saws such as circular or chop saws can be used to cut steel lap siding by experienced metalworkers. Typically, steel should not be cut using any heat-generating device such as an electric circular saw or jigsaw — to do so may destroy the protective galvanized coating and damage the siding. A power saw can be used on steel if equipped with an approved titanium carbide-tip blade.



For the best results, make sure you use a fine-tooth plywood blade. Many experienced steel lap siding installers recommend installing the blade in the reverse direction to produce smooth, clean cuts.



Never attempt to cut more than one steel panel at the same time to try and speed up the process. Your cuts will be extremely inaccurate and it is unsafe.



A valuable timesaver is the portable cutoff or trim table, which allows a standard portable circular power saw to be mounted in a carrier and set aside to avoid damaging the siding. These tools can help measure and crosscut, as well as make miter and bevel cuts for siding, soffit and trim. The units are constructed of lightweight aluminum and can be easily set up on the job site by one person.
Troubleshooting Procedures
You may come across some instances where you are unsure what to do. Here are some examples of some problems you may encounter and how to troubleshoot and solve them.
1

. What happens if the edges are cut rough?

Very rough jagged edges will expose bare metal. Rough cut and burred edges can be a hazard to installers, and if left unprotected, can rust and potentially discolor adjacent materials. A clean cut allows for the galvanized coating to seal the cut edge.

During cutting, it's important to periodically stop and inspect your cutting device to ensure the cutting edge is still sharp and making clean cuts. Always use sharp tools that are adjusted properly.
2

. There are steel shavings all over my job site. What do I do?

Pick up all the bigger scrap pieces, cartons, nails, etc. For smaller, hard-to-see items such as nails and metal shavings, use a large magnet to attract and remove them.
3

. How do I measure and cut around gables?

When installing siding on gables, diagonal cuts will have to be made on some of the panels. To make a pattern for cutting panels to fit the gable slope, use two short pieces of siding as templates. Interlock one of these pieces into the panel below. Hold the second piece against the J‑channel trim on the gable slope.

Along the edge of this second piece, scribe a line diagonally across the interlocked panel and cut along this line with tin snips or a power saw. This cut panel is a pattern that can be used to transfer cutting marks to each successive course along the gable slope. This pattern should be checked on each course for accuracy as the slope is not always perfectly straight.

All roof slopes can be handled in the same manner as gable-end slopes.
Klauer Steel Lap Siding Solutions
Want to read more about installation best practices of steel siding? Check out Klauer's Installation Guide. Or visit Klauer's Steel Siding page to see the exterior steel products available.
Request a Sample
Submit your request today to receive a sample to help guide you to the best steel siding choice for your home or next project.