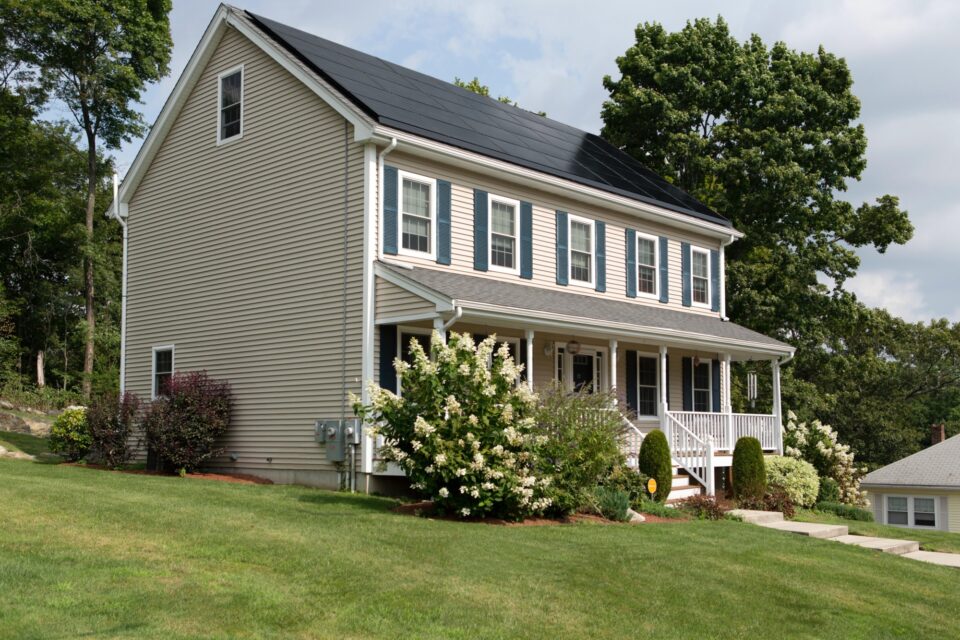 9 Demographic Locations Steel Siding Excels In
Steel siding has the ability to enhance the exterior appearance and curb appeal of your home, no matter where you're located. However, steel siding benefits have an even higher benefit in certain geographical regions, like the Midwest and Texas. From aesthetics to peak functionality, you can't go wrong with steel siding in the land of 10,000 lakes and the Lone Star state.
Steel Siding in the Midwest
Twin Cities,
MN
Minnesota is a fickle state. Ranging from hot, humid summers to blizzard-filled winters, searching for a reliable siding exterior can be difficult. Steel siding excels in the four constantly changing seasons of Minnesota, allowing homeowners to feel protected within their home — and it's aesthetically beautiful for the neighbors' eyes as well.
This home near the Twin Cities went for a balanced traditional/​modern aesthetic with functionality at the forefront of their priorities. The exterior features Klauer's Terra Bronze in 6‑inch horizontal steel siding. The subtle shade and lighter tones pair favorably with the glowing, green grass in the summers and don't look washed out in the muddy, snow-filled months.
In order to ensure that the home's exterior fully protected the interior, this Minnesotan family also installed Klauer's line of soffit, fascia and flashing, preventing moisture build-up during Minnesota's typical freeze-thaw cycles. It allows the home to achieve good ventilation and keeps everyone in the home comfortable.
Lincoln
&

Omaha,

NE

Lincoln gets some precipitation, 86 days per year on average, and Omaha gets precipitation 94 days a year, including snow, hail, sleet and rain. If you want long-lasting siding in Lincoln or Omaha, you need to choose a material that's durable. When it comes to durability, steel siding is at the top of the siding material list.

The main reason why steel siding is so durable is its thickness. Some steel siding manufacturers slide over this facet in their product development, but quality steel siding from a reputable company is made from heavy gauge steel so it can stand strong against hail and extreme storms and be less prone to dents, bumps and dings.

Not all steel siding brands are equal. To be truly long-lasting and durable, it needs to have a quality finish and paint combination, such as Klauer's proprietary texture finish and CoolPaint Technology™, which uses infrared reflective pigments in the paint to help improve the energy efficiency of your home. With the right finishes, your siding will be maintenance-free — meaning worry-free weekends while you cheer on the Huskers.
Billings,
MT
Billings gets almost double the average inches of snow compared to the rest of the U.S.​There are also 33.1 days annually where the high temperature is over 90°, making it one of the hottest areas in Montana — not the ideal weather for fixing your home's exterior.
Steel siding does not require expensive cleaning services or special maintenance products to keep it in great shape. Once steel siding is installed, only minimal maintenance is required, and you can enjoy your siding for decades to come. You only need to do a couple of simple washes a year to maintain freshness. No yearly caulking, staining, priming or painting required.
Fargo,
ND
As the tagline of the movie Fargo once said, ​"A lot can happen in the middle of nowhere." That's why it's best to protect your home with steel siding in Fargo, North Dakota — both from the cold weather and other potential midwestern events.
The city of Fargo sees extreme temperatures in the winter, with the average high in January reaching a measly 16 degrees. Steel siding allows homes to withstand the harshest weather conditions and retain a beautiful exterior to showcase for years. Other popular siding materials like vinyl, wood or stucco can't come close to the timeless style, tough durability and sustainability of steel siding.
Steel siding is able to be installed around must-have architectural structures in the midwest like garage doors, patio doors and more. Homeowners in Fargo, North Dakota built the above two-story home + garage with Klauer's Deep Ocean Blue Seamless Steel D4 siding. They paired the beautiful dark blue with white accents on the rest of the exterior, including Klauer's Snow White Steel for accents, classic aluminum Snow White soffit and classic 6" steel fascia, for a gorgeous finish.
Steel Siding in Texas
Lubbock,
TX
Lubbock has been working diligently to improve recycling efforts and expand their recycling services. Homeowners in Lubbock can get an eco-friendly headstart by investing in a steel siding exterior.
Steel siding is guaranteed to retain its appearance for decades, and steel is the most recycled material in the United States, making it a sustainable purchase for homeowners looking to work on their green footprint.
During installation, each panel is made to fit, minimizing waste, which is better for your budget and the environment as no unused siding is sent to the landfill.
Midland-Odessa,
TX
In 2011, 21 wildfires spread across Texas, destroying 120,000 acres and 68 homes. As climate change continues to impact Midland-Odessa with wildfires, it's important to defend your home with fire-resistant siding in order to protect your family.
Steel is not only unappealing to insects, mold and fungus; it's also resistant to fire. During any potential evacuations, you and your family can have peace of mind that your home is as secure as it can possibly be from a wildfire.
The Midland-Odessa area also holds the third state record for the hottest day in history, clocking in at 116 degrees. For temperatures that hot, you may want to add a little additional insulation to help your steel siding reflect the extra heat. But, in a nutshell, steel siding is highly resistant to warping, excessive heat or fading. You'll never have to worry about the Texas heat affecting your home's aesthetic.
Amarillo,
TX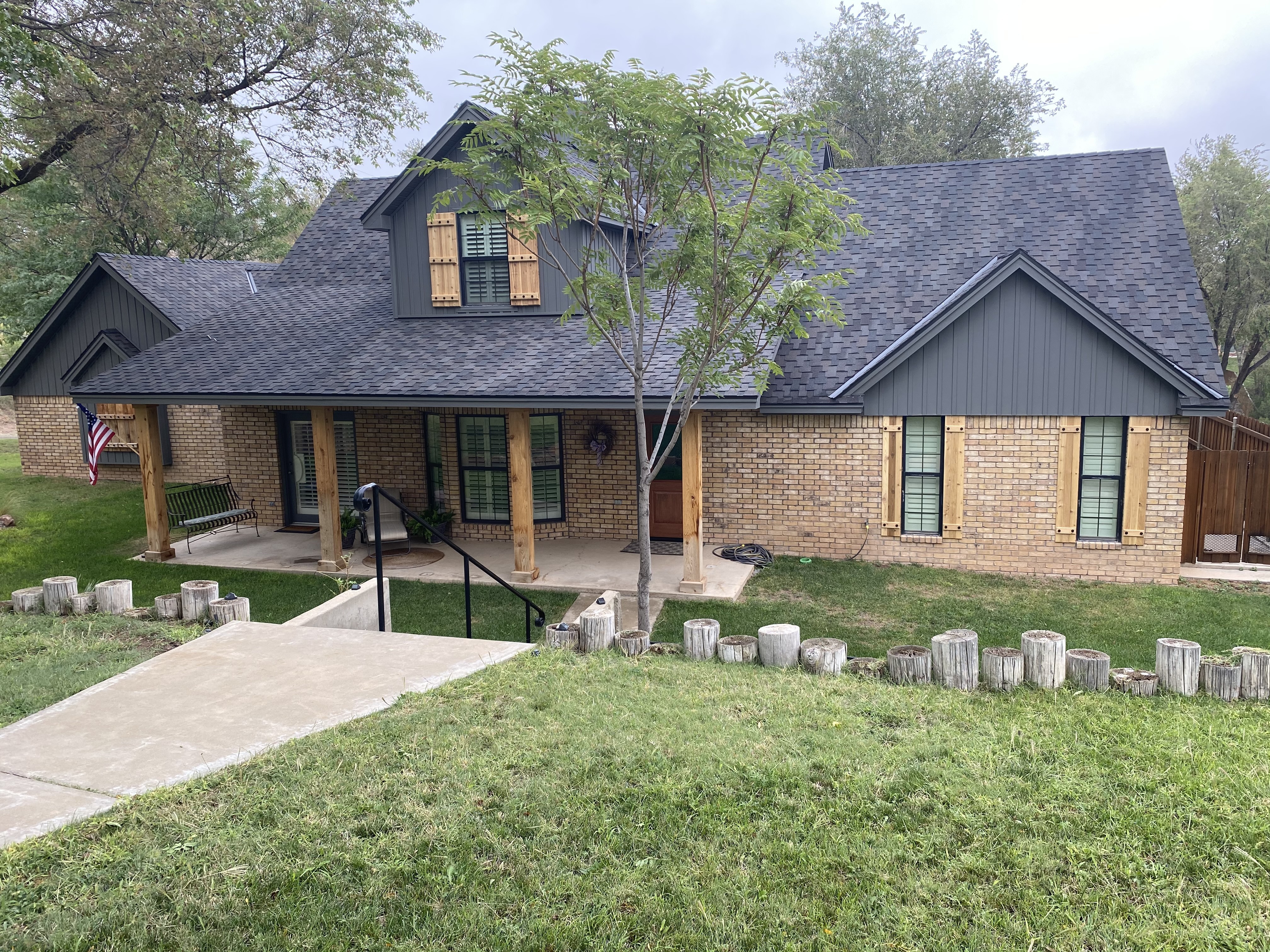 Steel siding can act as the perfect accent to other materials, like the brick home shown above. Alongside brick, steel siding creates a tremendously strong exterior that will stand up to all kinds of weather, including the Texas heat.
Amarillo is unpredictable when it comes to its weather. Brick or steel alone would work, but blending together different siding textures, aesthetics and sizing make for a fun block party. This homeowner chose Klauer steel siding as their accent piece, featuring dormers with vertically arranged 8‑inch panels in the lavish Ember Grey color.
Klauer's steel siding comes in a plethora of grain appearances if you are into the aesthetic wood without the hassle of wood. These homeowners get to enjoy the warm, inviting look of wood without having to deal with fire safety issues, pests, woodpeckers, termites or carpenter bees.
Check Out Klauer's Steel Siding Solutions
When investing in a product you expect to last for half of your life, you want to make sure you choose a company that cares about you and your values. Whether you live in the frosty Midwest or the treacherously hot South of Texas, Klauer can help you achieve a high-quality, durable and customized exterior with one of our many steel siding offerings.

Check out Klauer's Steel Siding page for more information, or find contractors near you to help you elevate your home.