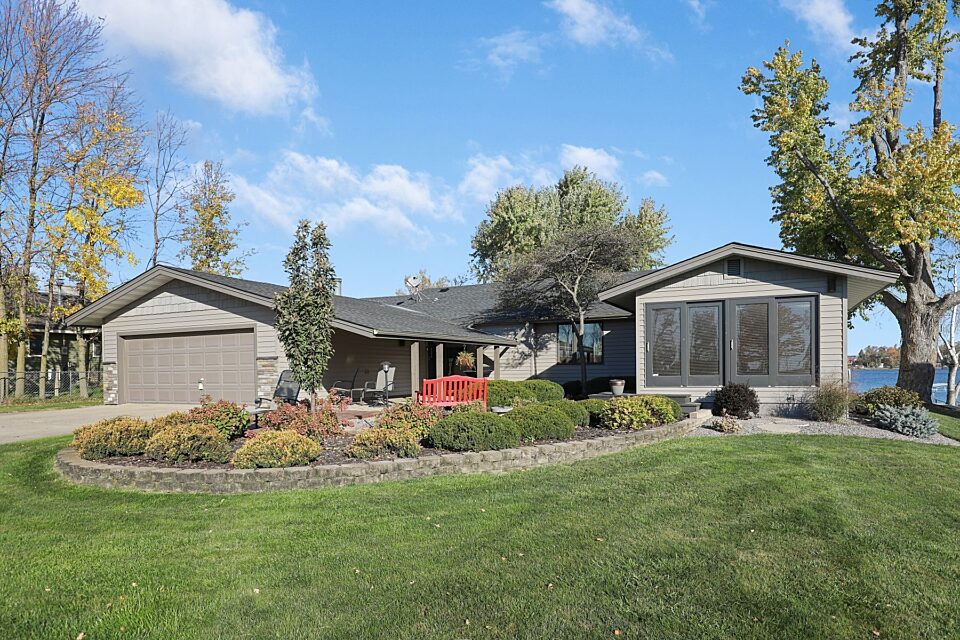 What to Pair With Your Steel Siding
Siding materials paired with trim create your home's protective blanket, keeping you safe from harsh elements. At the same time, your steel siding and trim reflect your personal style, character and charisma. Regardless of the type of siding, trimming accessories can perfectly complement your home's aesthetic.
From snow white to standout colors, pair your siding with trim to give it an edge sure to stop your neighbor's in their tracks from its beauty and grace.
Snow White Trim
No matter what color you choose for your siding, adding white trim as an accessory pairs splendidly. The contrasting colors create sleek lines and stand out beautifully against backdrops.
Maintenance Tips for Steel Siding

This Texas home pictured here features exterior colors in Sunset Red and Terra Bronze, sourced from Klauer. The homeowners achieve a rustic look that blends in perfectly with the rugged, Texan plains around it. Earthy, reddish-brown tones contrast against the expansive blue sky, and the clouds pair perfectly with the embossed Snow White trim coil. These colors and accessories together create a crisp, finished look sure to impress.
The trim and siding create a unique visual that is both modern and timeless. On top of aesthetics, these materials also offer superior durability and energy-saving benefits, important features for the hot Texas heat.
Should You Choose Steel or Aluminum?

Approximately a thousand miles north, snow white trim also shines with steel siding. Steel siding protects the home pictured below in Fargo, North Dakota from cold weather in the winter and splintering heat in the summer.
Nine Demographic Locations Steel Siding Excels In

Even with average temperatures in the mere teens, steel siding and trim accessories withstand the harshest conditions and retain their appearance for years and years. Other popular siding and trim materials like vinyl, wood or stucco can't compete with the style, toughness and sustainability of metal.
This multi-story North Dakota home is emblazoned with Klauer's Deep Ocean Blue Seamless Steel D4 Siding and paired with Snow White metal trim, classic aluminum Snow White soffit and classic 6" steel fascia. All of the siding and accessories can easily be installed around must-have architectural structures of the midwest, from garage doors to patios and more.
The Snow White accents complement the deep, dramatic colors of the siding, giving the homeowner superb curb appeal, especially against the bright green lawn in the gorgeous Midwestern summers.
Beautiful in Beige
Is there anything more everlasting than earth tones? For homeowners who would like to blend in beautifully with their neighborhood, earth tones are the way to go. It also helps with resale value for ambitious first-time home buyers.
How To Get Your Steel Siding Ready for Spring

Whether you go for neutral brown, cream, tan or greige (the combination of gray and beige), homeowners can make a home appear more inviting and welcoming with this color scheme. This Minnesotan home pictured above meshes gorgeously with its surroundings, but this color wheel works great in just about any geographical area.
Using Klauer's 6" Terra Bronze horizontal steel siding, this Twin Cities home creates a traditional yet modern look that stands up against all four seasons of weather, allowing homeowners to be stress-free all year round. The subtle shade and lighter tones in the trim accents pair favorably with the glowing, green grass in the summers and don't look washed out in the muddy, snow-filled months.
Four Steel Siding Designs for Best Resale Value

To ensure full protection of the interior, these homeowners also installed Klauer's line of soffit, fascia and flashing to prevent moisture build-up during Minnesota's typical freeze-thaw cycles. They get high-quality ventilation, a comfortable atmosphere and a stylish home exterior that impresses.
The siding and accessories are fade‑, chalk‑, flake- and rust-proof. Plus, it has fantastic energy efficiency, helping homeowners reduce their energy costs year-round.
Gorgeous Greens​
4 Ways Builders Can Combat Supply Chain Issues Blog

For the bolder homeowner, green looks gorgeous when paired with a wood-like aesthetic. Klauer's steel siding comes in different textures, so if you're looking for a woodsy, rustic feel, go the extra mile in flair by adding glamorous greens for your accent pieces.
Not only are you adding a green aesthetic, but you're also partaking in green sustainability if you choose steel siding. According to the Steel Recycling Institute, steel is acclaimed as the #1 most recycled material in the U.S. No matter how many times steel is recycled, it uniquely retains its properties. This means less natural resources being used while simultaneously reducing CO2 emissions.
Steels' maintenance requirements also allow you to save on harmful cleaning agents and paints. If you live in an area that suffers from drought, this low maintenance also helps you to reduce your water usage for cleaning.
When you pair steel siding's recyclability and durability with its extremely low maintenance upkeep, it's the perfect environmentally-friendly siding option for homeowners looking to ​'go green' in more ways than one.
Klauer Has You Covered
Klauer's steel siding is made from the finest material to ensure the most dependable siding available in the industry today, and Klauer's accessories are no different. Klauer's aluminum soffit and fascia line is the choice of building professionals for venting roof structures and finishing overhangs and porches.
Klauer's trim profiles are produced from true-gauge galvanized steel to meet industry-leading strength and durability requirements and are finished with two-coat siliconized polyester paint with a 40-year warranty.
Klauer's high-quality trim coil will not only protect your home from the elements, it'll help you achieve the exact look of your dream house. Due to its different embossing patterns and specialized shapes, Klauer's trim coil pairs beautifully with Klauer's steel panels that come in a multitude of colors and textures. Check out Klauer's Color Selection Chart to find the perfect accessories to pair with your choice of steel siding.
The trim profiles from Klauer have hemmed edges to provide extra rigidity, eliminating the likelihood of corrosion and providing safety during handling and installation. Klauer's trim coil is easy to shape, form, cut and fasten and perfect for covering rake boards, fascia boards, adding trim around your windows, adding corner trimming and more.
With Klauer, you'll always have a partner with your best interests in mind. If you're looking for steel siding and the perfect accessories to pair them with, check out our website today.